Rwandan refugee

qualifies as a doctor thanks to DAFI programme

News Stories, 30 January 2009
N/A
NEWCASTLE, South Africa, January 30 (UNHCR) – Egide Ndayishimiye, a Rwandan refugee who found safety in South Africa, has now added the title doctor before his name thanks to the DAFI scholarship programme funded by Germany and managed by UNHCR.
"I am happy to inform you that I have managed to pass all blocks of my final year and I qualified as a doctor," he wrote to UNHCR this month. "I will be doing a two-year internship programme at Madadeni/Newcastle Complex. I don't know how to express my gratitude but I really want to say that you helped me a lot and that without DAFI assistance my life would have been different."
Through the Albert Einstein German Academic Refugee Initiative (DAFI), UNHCR provides scholarships to qualified refugees for studies at universities and colleges in more than 35 countries of asylum and, recently, countries of return. Dr. Ndayishimiye had received a DAFI scholarship to study medicine in South Africa at the Nelson R Mandela School of Medicine at the University of KwaZulu Natal.
The DAFI programme was set up by Germany in 1992 and is a vital part of UNHCR's strategy to promote self-reliance and durable solutions for refugees. It is often the only option available for refugees to continue to tertiary education.
Thanks to their areas of expertise, DAFI graduates can provide crucial contributions to the refugee community as well as the reconstruction of their countries. The results have been highly positive: 95 percent of DAFI graduates are in jobs, with more than 70 percent in sectors relevant to the development of their countries.
In recognition of the impact these graduates can have, the German government increased its funding for the programme last year from US$2 million to almost $5 million. That allowed UNHCR to increase the number of scholarship holders to 1,700 refugee students.
In 2007 1,082 students originating from 30 different countries had received support. The students – 58 percent of them men – were mainly studying in Africa or Asia although there were also some scholarships provided in Eastern Europe and Latin America.
Depending on the needs and the resources available to individual UNHCR country operations, scholarships can cover both the costs of tuition and living expenses. Selection of the candidates is carried out by UNHCR – with assistance from its operating partners – and the German government.
UNHCR country pages
Education is vital in restoring hope and dignity to young people driven from their homes.
The German-funded Albert Einstein German Academic Refugee Initiative provides scholarships for refugees to study in higher education institutes in many countries.
20 Years of DAFI: A UNHCR exhibition highlights the impact of higher education for refugee communities.
Chad: Education in Exile
UNHCR joins forces with the Ministry of Education and NGO partners to improve education for Sudanese refugees in Chad.
The ongoing violence in Sudan's western Darfur region has uprooted two million Sudanese inside the country and driven some 230,000 more over the border into 12 refugee camps in eastern Chad.
Although enrolment in the camp schools in Chad is high, attendance is inconsistent. A shortage of qualified teachers and lack of school supplies and furniture make it difficult to keep schools running. In addition, many children are overwhelmed by household chores, while others leave school to work for local Chadian families. Girls' attendance is less regular, especially after marriage, which usually occurs by the age of 12 or 13. For boys and young men, attending school decreases the possibility of recruitment by various armed groups operating in the area.
UNHCR and its partners continue to provide training and salaries for teachers in all 12 refugee camps, ensuring a quality education for refugee children. NGO partners maintain schools and supply uniforms to needy students. And UNICEF is providing books, note pads and stationary. In August 2007 UNHCR, UNICEF and Chad's Ministry of Education joined forces to access and improve the state of education for Sudanese uprooted by conflict in Darfur.
UNHCR's ninemillion campaign aims to provide a healthy and safe learning environment for nine million refugee children by 2010.
Chad: Education in Exile
Education for Displaced Colombians
UNHCR works with the government of Colombia to address the needs of children displaced by violence.
Two million people are listed on Colombia's National Register for Displaced People. About half of them are under the age of 18, and, according to the Ministry of Education, only half of these are enrolled in school.
Even before displacement, Colombian children attending school in high-risk areas face danger from land mines, attacks by armed groups and forced recruitment outside of schools. Once displaced, children often lose an entire academic year. In addition, the trauma of losing one's home and witnessing extreme violence often remain unaddressed, affecting the child's potential to learn. Increased poverty brought on by displacement usually means that children must work to help support the family, making school impossible.
UNHCR supports the government's response to the educational crisis of displaced children, which includes local interventions in high-risk areas, rebuilding damaged schools, providing school supplies and supporting local teachers' organizations. UNHCR consults with the Ministry of Education to ensure the needs of displaced children are known and planned for. It also focuses on the educational needs of ethnic minorities such as the Afro-Colombians and indigenous people.
UNHCR's ninemillion campaign aims to provide a healthy and safe learning environment for nine million refugee children by 2010.
Education for Displaced Colombians
Kigeme: A home carved from the hills for Congolese refugees
The Kigeme refugee camp in Rwanda's Southern province was reopened in June 2012 after thousands of Congolese civilians started fleeing across the border when fighting erupted in late April between Democratic Republic of the Congo government forces and fighters of the rebel M23 movement. Built on terraced hills, it currently houses more than 14,000 refugees but was not significantly affected by the latest fighting in eastern Congo, which saw the M23 capture the North Kivu provincial capital, Goma, before withdrawing. While many of the adults long for lasting peace in their home region, the younger refugees are determined to resume their education. Hundreds enrolled in special classes to help them prepare for the Rwandan curriculum in local primary and secondary schools, including learning different languages. In a camp where more than 60 per cent of the population are aged under 18 years, the catch-up classes help traumatized children to move forward, learn and make friends.
Kigeme: A home carved from the hills for Congolese refugees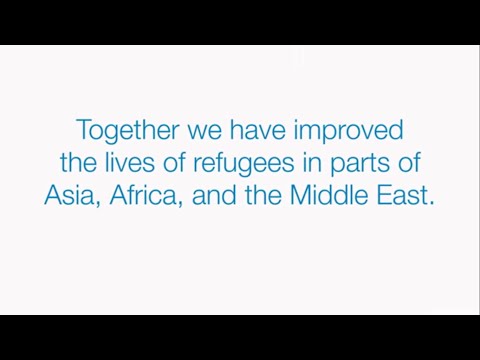 Brighter Lives for Refugees
Thanks to IKEA Foundation's support, UNHCR is helping improve access to lighting, renewable energy solutions and primary education in refugee camps in parts of Asia, Africa and the Middle East.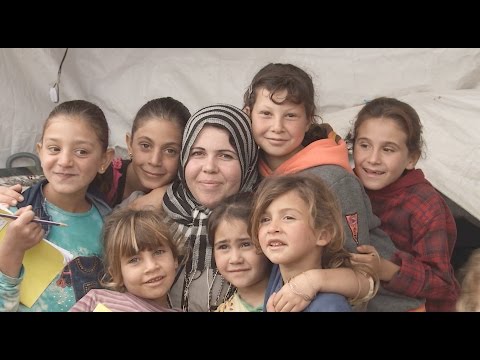 Lebanon - Homeschooling in a tent
With 400,000 school-age Syrian refugee children in Lebanon, only around half can find space in classrooms. Seeking to step into the gap and provide children with an education, Syrian refugee and former teacher Fatima has transformed her tent into a school​